Need answers? Read through our resources below. There are so many things happening legally and in terms of lender policies that are designed to give homeowners and renters some relief and peace of mind during the peak of the coronavirus. We will assemble and update the news as it occurs.
Call us if you need more help. David is at 949-874-0657 and Avarelle is at 949-874-0658.
5/19
Fannie Mae and Freddie Mac announce that homeowners in forbearance can refinance within 3 months after they bring their mortgages current, instead of waiting a year or more.
https://www.housingwire.com/articles/fannie-mae-freddie-mac-will-allow-borrowers-who-took-forbearance-to-refinance-their-mortgage/?fbclid=IwAR3CAQdITg92wrERohGEhxBjho6Kgy3Q1ty5YRHt1s8bIRX2S0wxs3og_Ig
5/1
A summary of the rules throughout California regarding nonpayment of rent during the Coronavirus emergency:
https://www.ocregister.com/2020/05/01/with-may-rent-due-coronavirus-related-tenant-protections-could-buy-you-some-time/?fbclid=IwAR1Louk-Fb2s1dMV-GrgJu_Q4PCiWrJduxOMWh449IxAntcT-VOMTR-DH-o
4/29
Here is some direct contact info for the largest mortgage holders. Best advice if you need help is to reach out directly to them, Get every agreement in writing. Beware of scammers.
Bank Regulators have instructed banks and servicers to be proactive in extending help to homeowners:
Banks have posted their own policies and ways for consumers to contact them for assistance:
Servicers (those who collect the payments for investors/banks and interact with consumers) are providing information for how homebuyers can reach out for assistance:
Mortgage Insurers are also providing information on how servicers can help consumers:
Consumer Financial Protection Bureau (CFPB)
Protect Your Credit: The CFPB is urging consumers to protect their credit(link is external) during this pandemic.
Protect Yourself Financially: The CFPB has a number of resources(link is external) focused on financial protection, both short and long term, such as paying bills, income loss, and scam targeting. Resources include contacts for housing and credit counselors, debt collectors, and state unemployment services.
4/27.
Have a mortgage backed by Fannie Mae or Freddie Mac? Need forbearance? Here is good news. Need to find out if your mortgage qualifies? Reach out to us. We can help.
https://www.fhfa.gov/mobile/Pages/public-affairs-detail.aspx?PageName=No-Lump-Sum-Required-at-the-End-of-Forbearance-says-FHFAs-Calabria.aspx
4/27.
Here is a video from Fannie Mae explaining mortgage forbearance for Fannie Mae loans. Not all forbearance is the same. Think before you ask for it. Call us if you have questions.
https://www.youtube.com/watch?v=H6yyfGcCizI&feature=youtu.be&utm_campaign=Newsletter+-+OpenHouse&utm_source=hs_email&utm_medium=email&utm_content=87017927&_hsenc=p2ANqtz–5jXnGfERsWveiPfKb0w7My0leGDqsHVRr5c4j0NxazgAQPY1xrxLSrCCfuYvTpeZ3ouLUPgqywzwx0EIpwNEM9BABUciynEKYFNd5_qQgqgf5sLs&_hsmi=87017927
4/26.
A Morgan Stanley view on what it will take to get to an economic recovery:
https://www.morganstanley.com/ideas/coronavirus-peak-recovery-timeline?fbclid=IwAR3cRsFsoClQUgZcX9_EmU8eK7wZVW8Z8VusKknulaMwbz0-V8Hp1oXs0-k
4/26.
Historically low interest rates expected through 2021
https://www.inman.com/2020/04/22/fannie-mae-forecasts-mortgage-rates-under-3-for-2021/
4/19.
The California Department of Real Estate warns against COVID real estate scams. A reminder that tough times bring out the best in many people, but there are still scammers out there taking advantage. If you think you have been approached by a real estate scammer, contact the California DRE. Let us know too, so we can better inform consumers.
https://dre.ca.gov/files/pdf/ca/DRE_Fraud_Warnings_4_2020.pdf
4/18.
Speculation by architects on how this pandemic and the possibility of future ones may change our outlook on housing:
https://www.dwell.com/article/architects-say-coronavirus-covid-19-pandemic-will-change-home-design-ee29c873?fbclid=IwAR3Yr_qgO_DQJDxX1NJQwPbqZBO_CzEkmgB4KzPRpgGM8aB9sBMlcxIFCV8
4/17.
The demographics driving housing will still be there once our current health and economic crisis becomes more manageable
In our immediate future, we have demographics on our side. We are in the early stages of the most prominent pro-housing demographic patch ever recorded in U.S. history. The number of Americans ages 26-32 is massive, much bigger than the total population of a lot of countries. The coronavirus crisis may mean that those young folks will take a little longer to earn the capacity for homeownership, but they will get there. One of the reasons why housing bears have failed so badly since 2012 is that they don't believe in demographics. But demographics and productivity are economics, the rest is stamp collecting.
https://www.housingwire.com/articles/housing-isnt-as-doomed-as-it-may-seem-heres-why/?fbclid=IwAR22G37Gouatd26GuXR0L3SCTtlYas0w5tkWT2vmxbBMQ5nav520m9qBAkU
4/17.
Nearly 3 million mortgages are now in forbearance
https://www.housingwire.com/articles/nearly-3-million-borrowers-are-already-in-forbearance/?fbclid=IwAR0JiAOQTWMursYz2b5zQbwCCajJ7lYlGbOVLcT131is3IUB1iuJy-PbLxw
4/17.
Fraudsters are always alert for opportunities. Protect yourself. Check out this California Department of Real Estate bulletin to see how: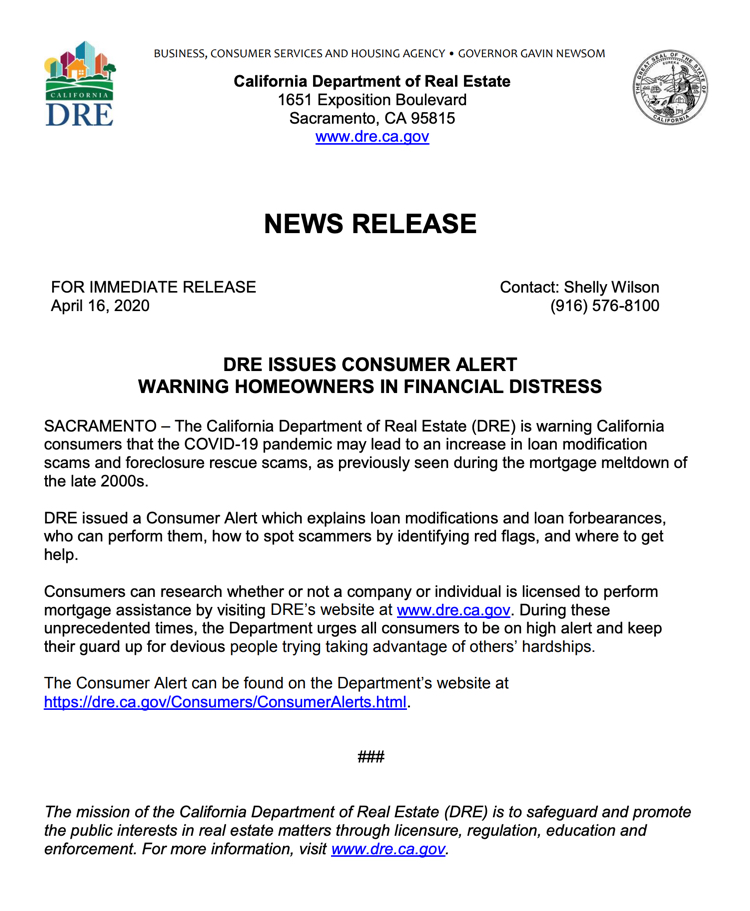 https://dre.ca.gov/files/pdf/ca/DRE_Fraud_Warnings_4_2020.pdf
4/17.
California Association of Realtors – inventory is down, activity is down too. Prices not moving much.
https://www.car.org/en/knowledge/pubs/newsletters/Newsline/covid41520?fbclid=IwAR1RGjThEB4JSI2VSy_lkQKsttLXCT_pFg0UNmgCqTCZVwBVSpUOFnyyFck
4/16.
What's happening with those "iBuyer" companies like Opendoor and Zillow? After abruptly stopping the buying, and cancelling many escrows, sometimes leaving sellers with 2 mortgage payments, they are laying off staff:
https://www.housingwire.com/articles/opendoor-lays-off-35-of-its-staff/?fbclid=IwAR1QXlrGI6xoCMwz-OHFlpVf7Pca-M4VZ4g3bG5ZTP4GzjssPdTBADq1Otw
4/16.
Mortgage forbearance numbers take a steep jump.
https://www.housingwire.com/articles/mortgages-in-forbearance-jumped-1396-in-one-month/?fbclid=IwAR289eCxt7OR9DHnx2F9UeFEeJonSVHvCEUL35DFOKtLOvdEkHEvymYaBB0
4/16.
Mortgage interest rates hit historic lows last week.. But it's complicated. Some lenders are pulling back, changing policies and standards. Call us if you need help. We'll put you in touch with the right lender for your needs.
https://www.inman.com/2020/04/15/mortgage-rates-drop-to-30-year-low/?utm_source=inbriefselect&utm_medium=email&utm_campaign=inbrief&utm_content=789423_textlink_5_20200415%3Fshr%3DQmFyYmFyYSBEZWxnbGVpemU&fbclid=IwAR1JRKGPw12iDs1BGFOOXXCYkGPKIbistoOqKJPvyTU1YBBY0d8t3gj_Z2w
4/14.
Updated Q&A for Landlords
Frequently Asked Questions: Landlord Issues
Updated on April 13, 2020
​
Update: Governor Orders Moratorium on Evictions for Nonpayment of Rent and Halts Lock-Outs
In the last few weeks, a deluge of eviction moratoria have been enacted at nearly every level of government including city, county, state, federal and the courts. These orders generally do not supersede each other but instead stand separately. Each must be adhered to on its own terms. The only exception is that a county ordinance regarding landlord/tenant issues will not apply to a city and visa-versa.
https://www.carcovidupdates.org/landlord-issues
Buying today? Do you still need a full appraisal? Maybe not.
"Under the GSE Appraisal Letters, the GSEs will allow either a desktop appraisal or an exterior-only appraisal if an interior inspection is not feasible due to COVID-19 concerns, although desktop appraisals are preferred for purchase transactions. Most purchase transactions are eligible for desktop or exterior-only appraisals, and certain refinance loans are eligible for exterior-only appraisals."
https://www.mayerbrown.com/en/perspectives-events/publications/2020/04/origination-in-the-era-of-covid-19–the-gses-fha-and-va-issue-guidance-for-appraisals-and-income-verification
4/12.
Curious about real estate activity? The results might surprise you. In San Clemente TODAY there are just 171 listings. There are 72 properties in escrow and 80 closed in the last 30 days, during which time California has been under a "Stay at Home" order. Contact us for your city/neighborhood.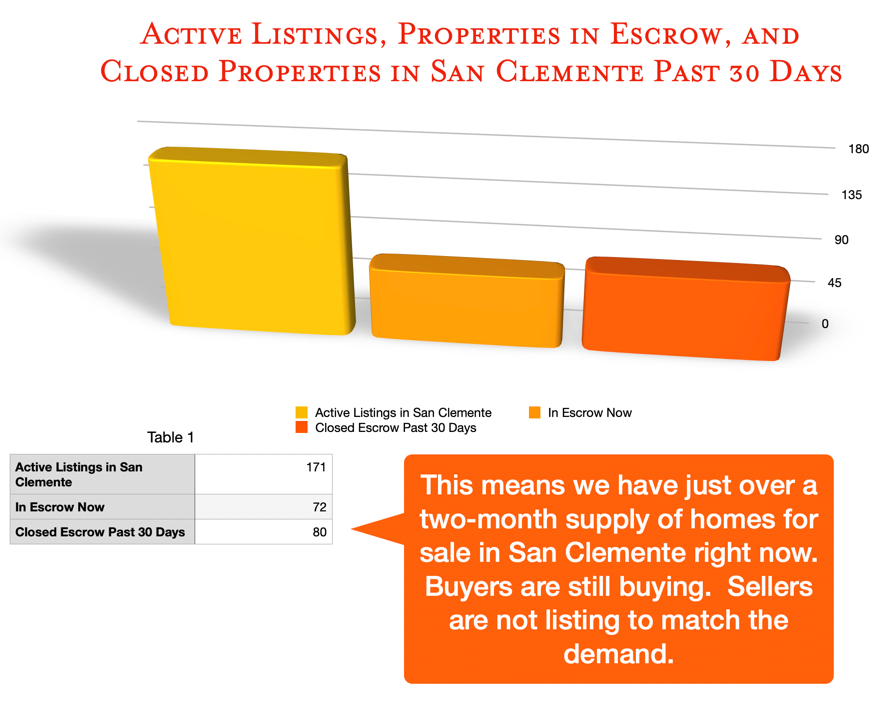 4/11.
The effect coronavirus is having on homeowner's and renter's insurance and some suggestions for tweaking if you are working from home.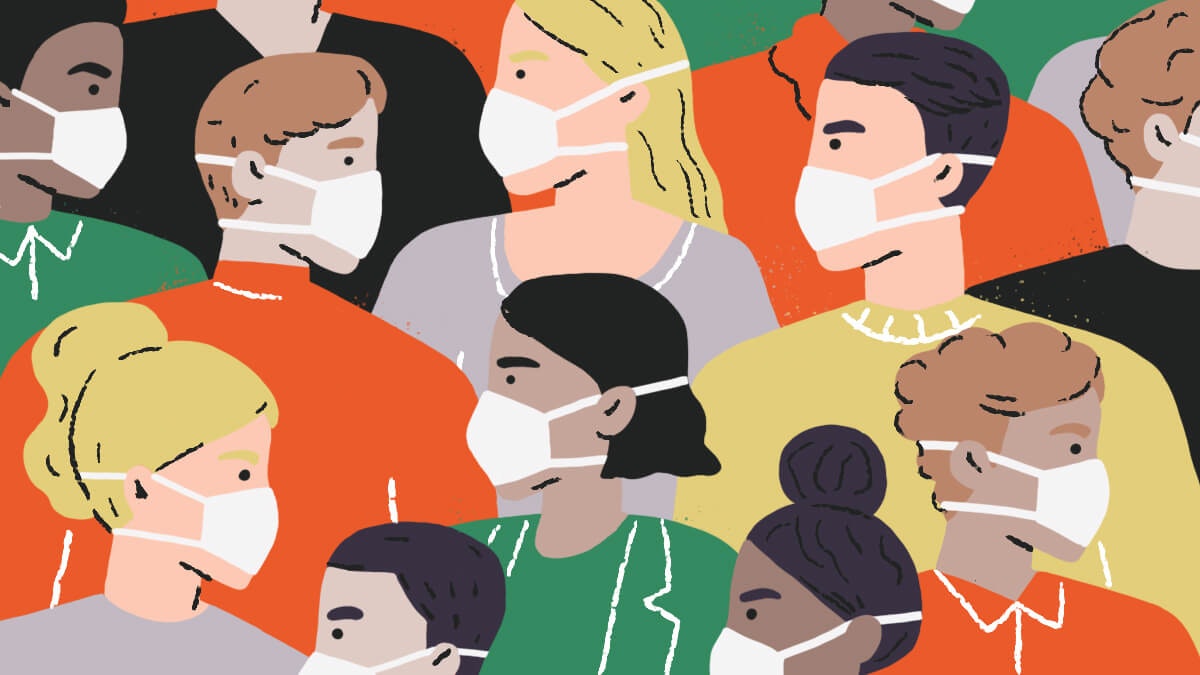 https://www.policygenius.com/homeowners-insurance/homeowners-insurance-and-coronavirus-covid-19/?utm_source=fb&utm_medium=display&utm_campaign=c%3Asocial%7Cp%3Afacebook%7Cv%3Ahome%7Ct%3Aprosp%7Cd%3Adt%26m%7CProspecting-DW-Coronavirus-Boosted-Post&utm_term=Prospecting-LAL1%25-InForce-Reshoppers-AS023-WARM&utm_content=CR012+%7C+IMG+%7C+TH%3Acoronavirus+%7C+TT%3AOG+%7C+Coronavirus+Home+Insurance+Post+%7C+ACCEPTED+%7C+3-25-2020&fbclid=IwAR2gCEXv6y3CqALba7ost6IWziq8UryZmRISFDMPY37Hi3Cr6S2avfw6Tlc
4/11. IRS updates on assistance programs
https://www.irs.gov/coronavirus-tax-relief-and-economic-impact-payments?fbclid=IwAR3c8c-TDukN91xxdiZ9Zy1ALWBFsnTRPTSs-TdVNtsd77YwiTpZtBf3tcY
4/10.
Congress extends deadlines for 1031 exchanges!
"1031 Like-kind exchanges. If an investor has taken the first step of a like-kind exchange by selling the old property, and either the 45-day or the 180-day deadline falls between April 1 and July 15, the deadline has been extended to July 15."
http://email.nar.realtor/q/17FYJg2F4PX0kALW8Z9JC7/wv?fbclid=IwAR0YHfLjWEE8gSU85mERsi0nLY5E-ezy8NNZ-33k5fUd-ySbUZ0Vh2-nhPM
4/9. Orange County Property owners: The second installment of the 2019-2020 property taaxes are still due tomorrow. Some of us have the taxes impounded and paid by the mortgage company. The rest of us pay twice a year. The Treasurer-Tax Collector, Shari L. Freidenrich, has made it clear that taxes are still due and payable. There is a provision on a case-by-case basis (and upon application with proof the delay was caused by a COVID hardship) to waive the late penalty and fees. See below for an explanation.
If payment is not received by April 10, then a 10 percent penalty and a $23 fee will be added to your property tax amount. In addition if you don't pay by July 1, 2020, the law requires that interest at 1.5 percent monthly (18 percent annually) be charged.
To pay after April 10, you have two remaining options:

(1)After April 10, if you are a homeowner, small business or other property owner with significant demonstrated economic hardship due to COVID-19, you can request a penalty cancellation as soon as you are able to make the base property tax amount (without penalties). All requests will be reviewed on a case-by-case basis. You will need to complete and sign the form, include a check for the base property tax amount due (without penalties or costs), provide third party and other supporting documentation justifying the request and mail these items to the address on the form.
(2)After June 30, if you do not meet the criteria above for significant economic hardship due to COVID-19, you can sign up for our 5-Year Payment Plan. This program requires a 20 percent deposit of the amount of the property taxes due plus a set-up fee of $25, and then requires annual payments of 20 percent by April 10 of each year. Interest is charged at 1.5 percent monthly (18 percent annually). There is no prepayment penalty and taxpayers can make payments online anytime to reduce the outstanding balance providing payment flexibility for the taxpayer. Taxpayers can complete the form and mail it in before? June 30. We mail taxpayers a reminder to pay by April 10, and the plan requires that all property taxes on the parcel to be paid as required.
Finally,in this time of uncertainty, we encourage you to check out our Financial Literacy page that includes links to the Paycheck Protection Program and information on unemployment insurance assistance.
You can email us at ttcinfo@ttc.ocgov.com or call us at 714-834-3411 (9 a.m. to 5 p.m.). For the latest information about COVID-19, visit the COVID19info.ocgov.com website.
Please stay safe.
Sincerely,

Shari L. Freidenrich, Orange County Treasurer
4/9. A weekly update from the California Association of Realtors shows pending home sales falling again as lending tightens and people stay home. Inventory is low.
"Real Estate Business IS Still Getting Done: In C.A.R.'s latest weekly survey of California REALTORS®, more than 30% of respondents have had a sale close escrow since March 15th when the shelter in place rules went into effect. And, although roughly 30% have had a transaction fall out of escrow, most REALTORS® who were supposed to close escrow were able to do so. Many transactions are facing delays due to financing, appraisals, and notary/signatures amongst others, California's market for residential real estate continues to function under unprecedented circumstances."
https://www.carcovidupdates.org/market-update?fbclid=IwAR2gBi99Hy0i8Qes7va3x_7HbCMjSypmMOtVCPcnnDlZobEqDQXxmPN8JII
4/9. We are following good physical health guidelines. What about our mental health?
https://qz.com/1818798/coronavirus-quarantine-has-serious-mental-health-implications/?utm_source=email&utm_medium=membership-promotion&utm_campaign=mental-wellness-040920&utm_term=thursday-blast
"What to do when you're alone
Despite the confusion over exactly how and when to quarantine, millions of people around the world will inevitably have to drastically reduce social contact and spend time in isolation to combat coronavirus. Frank McAndrew, an evolutionary psychologist at Knox College in Illinois, notes that enforced quarantine is particularly distressing. "Being quarantined gives one a sense of being at the mercy of other people and other uncontrollable forces such as an epidemic. This leads to a feeling of helplessness and uncertainty about the future that can be very unsettling," he tells us via email.
Prolonged periods in situations where nothing changes can push people to turn inward, McAndrew notes. "For those unaccustomed to such introspection and rumination, the experience can lead to negative emotions, and in extreme cases, a blurring of the boundaries between what is going on in one's own mind and what is actually happening around you," he writes. Activities that create a sense of change and purpose, such as rearranging the furniture or cleaning the house, can help create stimulation."
4/9. Five Indicators that will tell us when housing is rebounding
https://www.housingwire.com/articles/5-indicators-that-will-show-when-the-housing-market-is-rebounding-from-covid-19/
4/8. Orange County is mostly staying at home. Keep safe.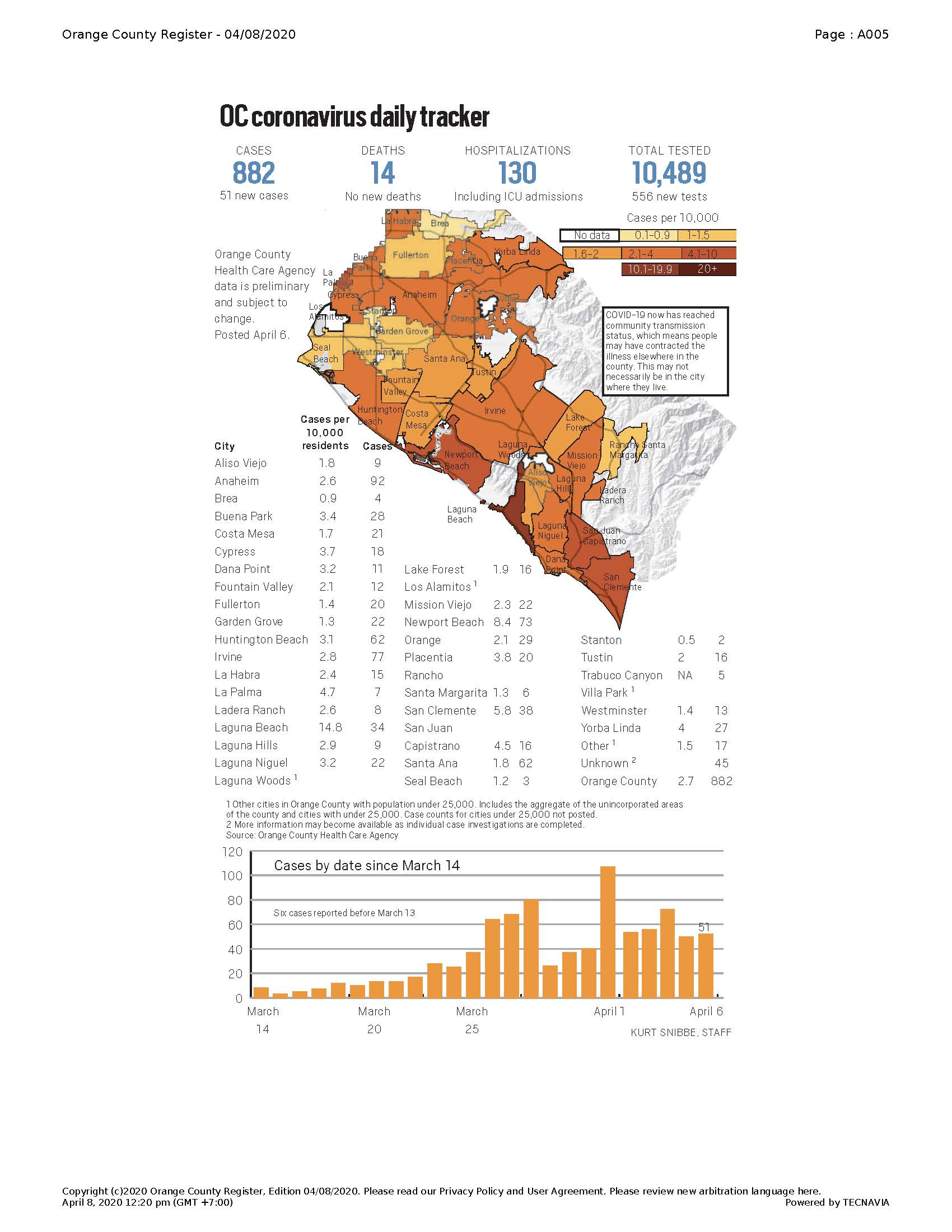 4/7. The Orange County real estate market slows to holiday season levels in just a few weeks.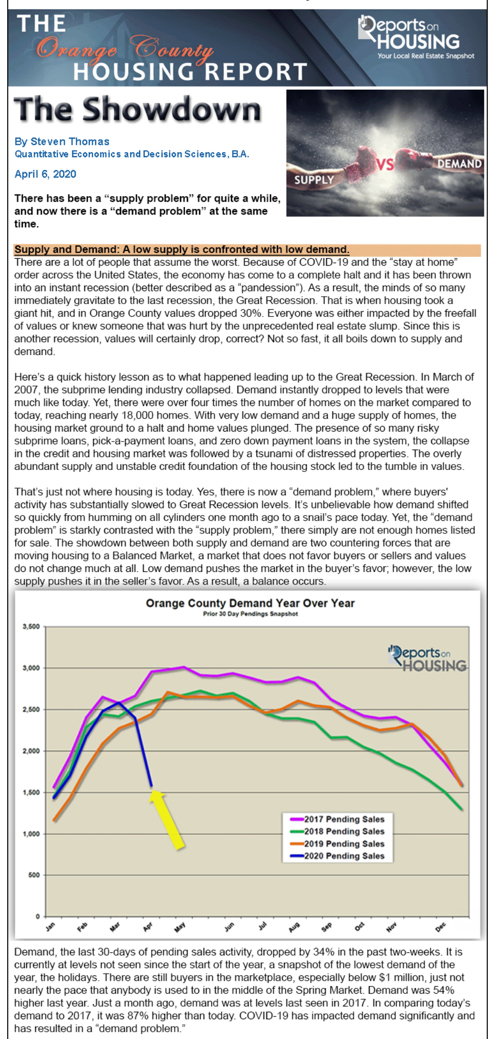 4/7. Two new forms were released today by the California Association of Realtors to help landlords and tenants communicate their expectations and any problems relating to payment of rent for residential rentals during the Coronavirus outbreak. One asks the tenant to reach out early if there is a problem. The other provides that any missed rent will be made up later.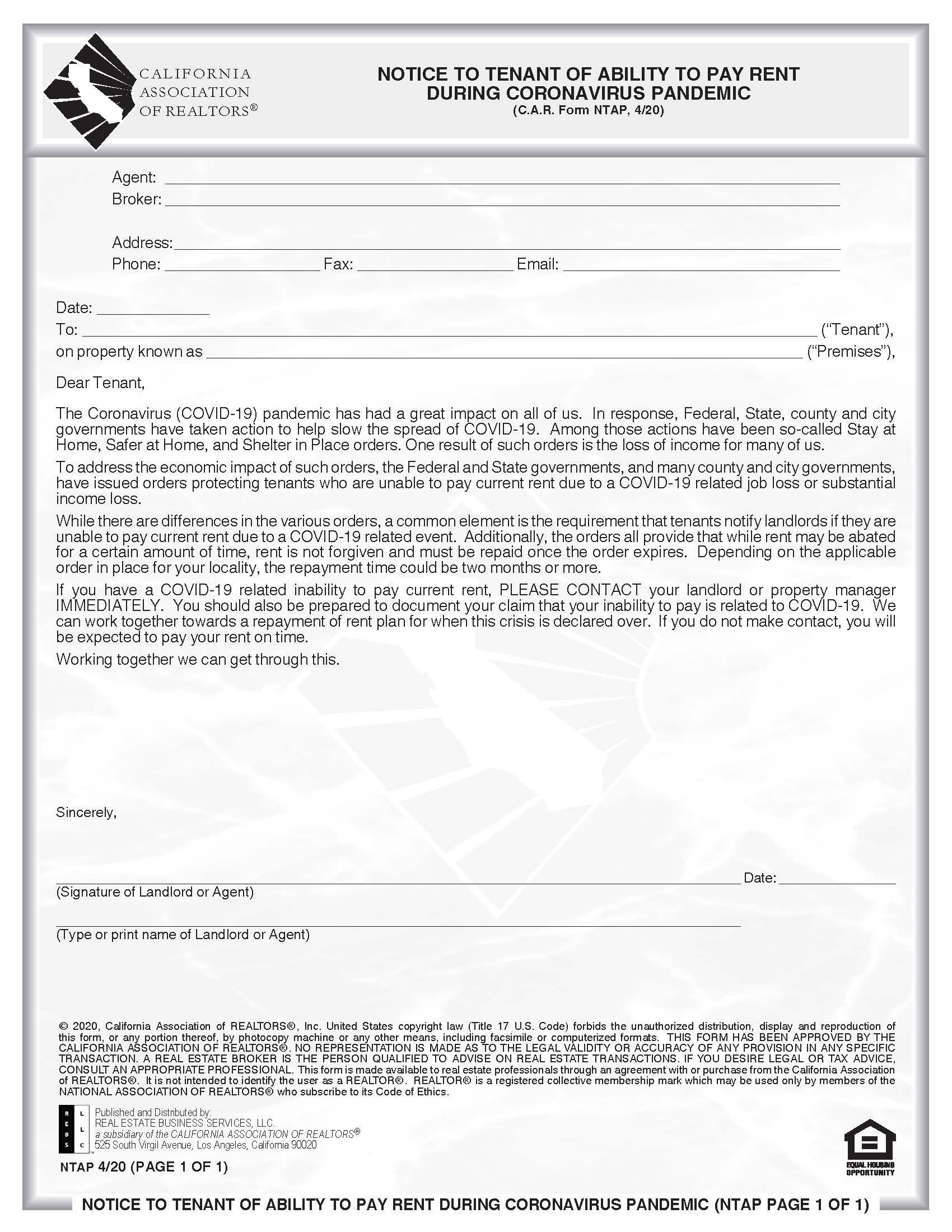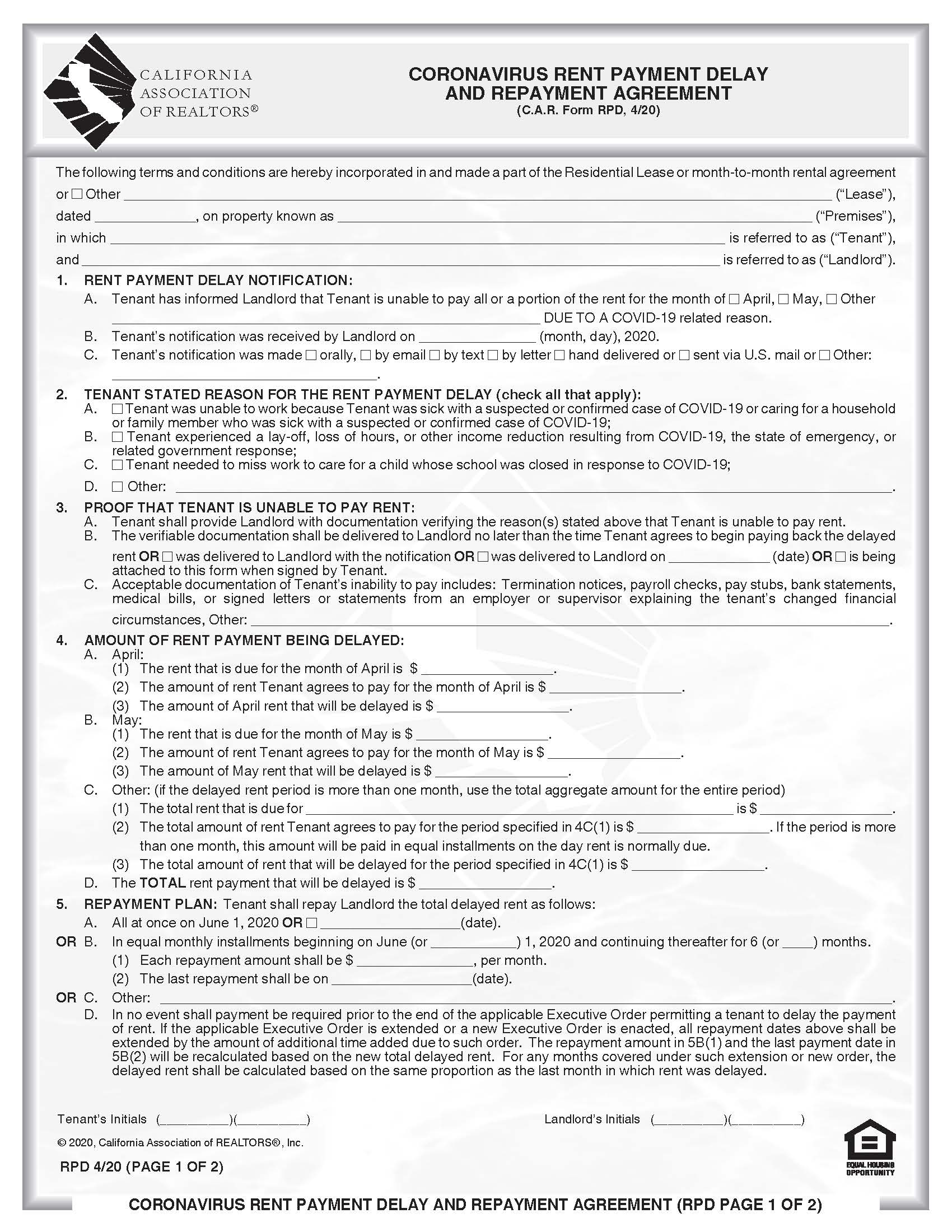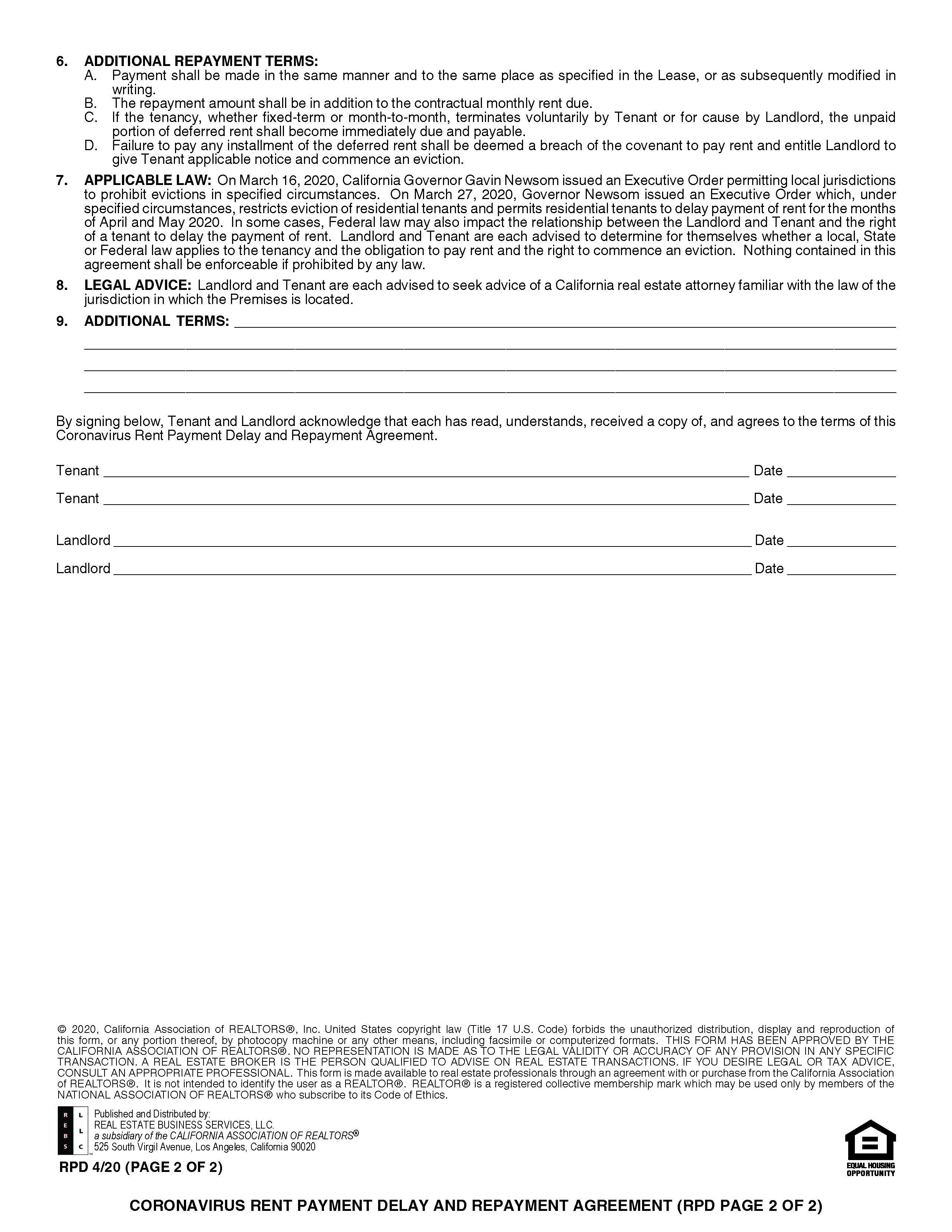 4/7. Onward California connects people with jobs
4/6. Orange County COVID Hotline hours have changed. One number to reach a variety of COVID resources.
1(833)426-6411
Effective Saturday, April 4, the Orange County COVID-19 Public Information Hotline and Health Referral Line will take calls from 8 a.m. to 5 p.m. Monday through Friday, and 8 a.m. to 3 p.m. on Saturdays.
Residents with COVID-19 questions can contact the County of Orange COVID-19 Hotline at 1(833)426-6411 at any time, but individual hotline hours will vary.
Through the hotline, callers can be connected to the following resources:
Orange County Health Care Agency – Health Referral Line, Behavioral Health Resources
Orange County Social Services Agency – Risk Benefits
Orange County Office on Aging – Resources for Seniors
Orange County District Attorney's Office – Scams, Price Gouging
County of Orange Emergency Operations Center Hotline – Non-Medical Questions
Small Business Recovery
2-1-1 Orange County
The Orange County Health Care Agency website at www.ochealthinfo.com/novelcoronavirus has information that is regularly updated regarding the status of COVID-19 in Orange County.
For information about COVID-19 in the state of California, visit their website at covid19.ca.gov.
The Orange County COVID-19 Hotline can be reached at 1(833)426-6411.
4/6. Rules for real estate showings vary by county and city. Orange County has adopted the State of California rules, which allow showings. Los Angeles now prohibits showings. Here is the list for those of you with properties or looking for properties in different California cities and counties.
https://e0ac19a3-665d-4e49-9303-5095dece1981.filesusr.com/ugd/e2712f_53edf434449943d89f2018e410d87162.pdf
4/6. The Governor of the State of California announced a limitation on residential evictions if tenants can provide proof that they cannot pay rent because of a Coronavirus-related reason. The new rule does not prevent all evictions, though court closures may make enforcement difficult. Here is an article from the California Association of Realtors providing some guidance:
https://www.carcovidupdates.org/landlord-issues
4/6. New escrows are down. That makes sense. Houses are hard to show. There is huge uncertainty in the air. People are not moving unless they need to. Inventory is low, though. As the economy restarts, experts differ on how much and how quick the rebound could be.
ReportsOnHousing author Steve Thomas says the buying drop is expected in a time of economic uncertainty. He says the good news is the supply of homes remains historically low. That could facilitate a quick rebound when the crisis ends.
"Homeowners are waiting for this to be over. There is no panic selling. I knew we would have a demand problem, but the supply (shortage) issue has continued," he said.
https://www.ocregister.com/2020/04/05/coronavirus-southern-california-homebuying-plummets-30-to-6-year-low/?fbclid=IwAR1t2TJXA3QIvanwyoHgO1AajUmb5ktzdGJM2qBMSn0Pnz4UI7iFpl3yODc
4/5. Proposed SALT tax limitation change could ease the tax burden for millions of California homeowners:
https://www.inman.com/2020/03/31/second-stimulus-package-could-roll-back-property-tax-deductions/?utm_source=facebook&utm_medium=social&utm_campaign=organic&utm_content=buffer86131&fbclid=IwAR3-V-myRz3ud1wofcODIXzUPd5tyXt2gAtpIDguEj3WyWkdz6M1KlQ3Jsc
4/5. The best and worst materials to make masks at home. Good tips on doubling and quadrupling fabric:
https://www.nytimes.com/article/coronavirus-homemade-mask-material-DIY-face-mask-ppe.html
4/5.
Newport Beach temporarily bans short term rentals
Emergency decree is a response to the coronavirus pandemic
By Laylan Connelly
lconnelly@scng.com @ocbeaches on Twitter
Newport Beach officials took the emergency step Friday of shutting down short-term rentals in town as they continue to urge visitors to stay away during the coronavirus pandemic.
The city previously closed off its boardwalks and beach parking lots, but opponents of the rentals argued the town should do more like other popular destinations such as Vermont and Florida, which enacted rental bans recently, to discourage people from flocking to the coast.
Short-term rental stays are allowed to provide overnight lodging to health care workers or emergency responders who have been called in to support health care needs in the region.
4/4. San Clemente shuttered hospital to be reopened as a COVID testing site:
https://www.ocregister.com/2020/04/03/shuttered-san-clemente-hospital-to-become-coronavirus-testing-site/
4/4. Latest Orange County COVID updates
https://voiceofoc.org/2020/04/latest-infections-deaths-and-projections-for-orange-county-and-covid-19/
4/3. Coronavirus impact on local real estate sales? Here is what you need to know for San Clemente/ Sales had been on a strong upward trend in 2020, which continued through March closings: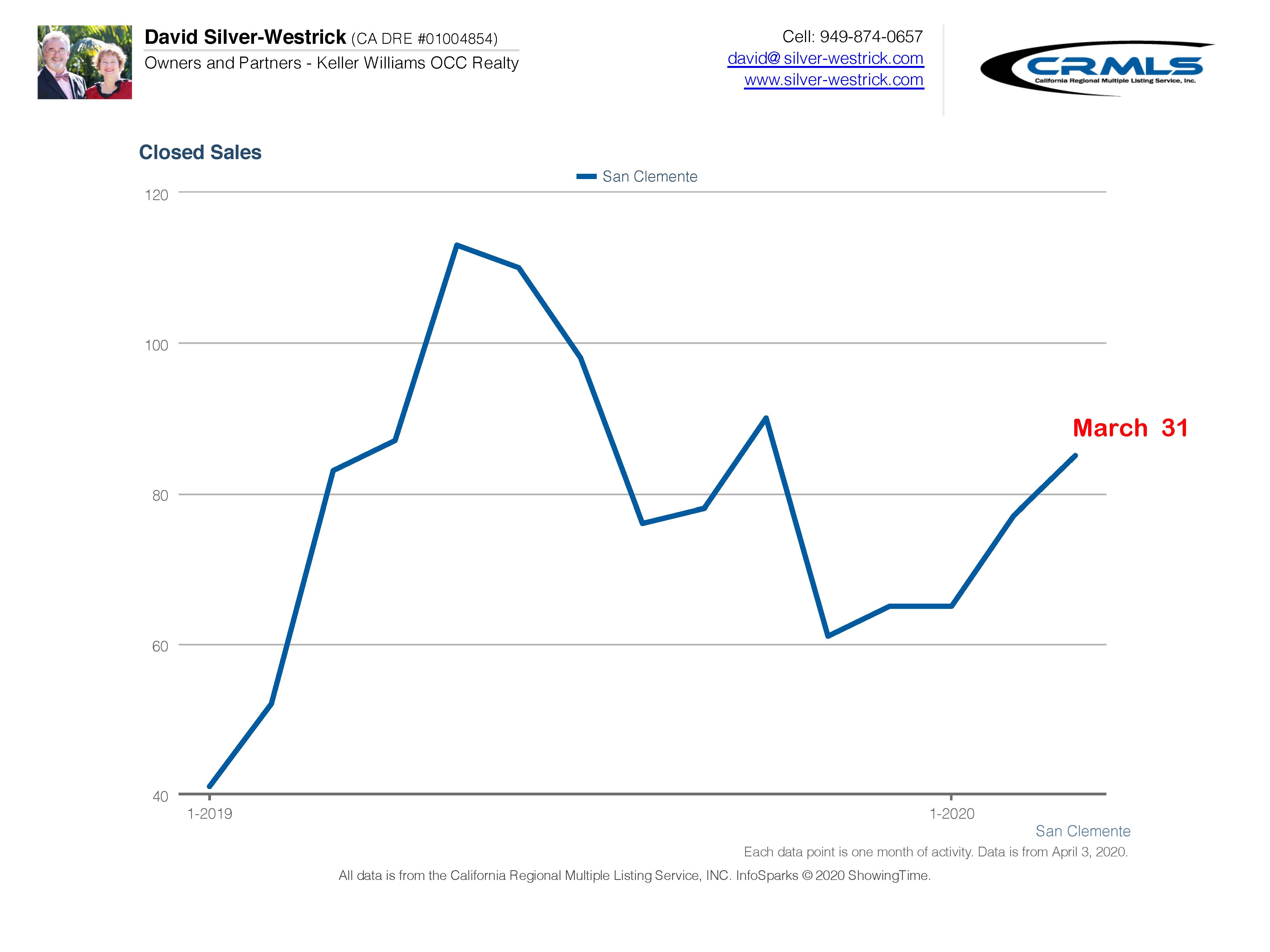 Pending sales (in escrow) trended down in March. Coronavirus surely played a part, but agents may also have been reluctant to report properties as being in escrow because of worries they might fall out of escrow: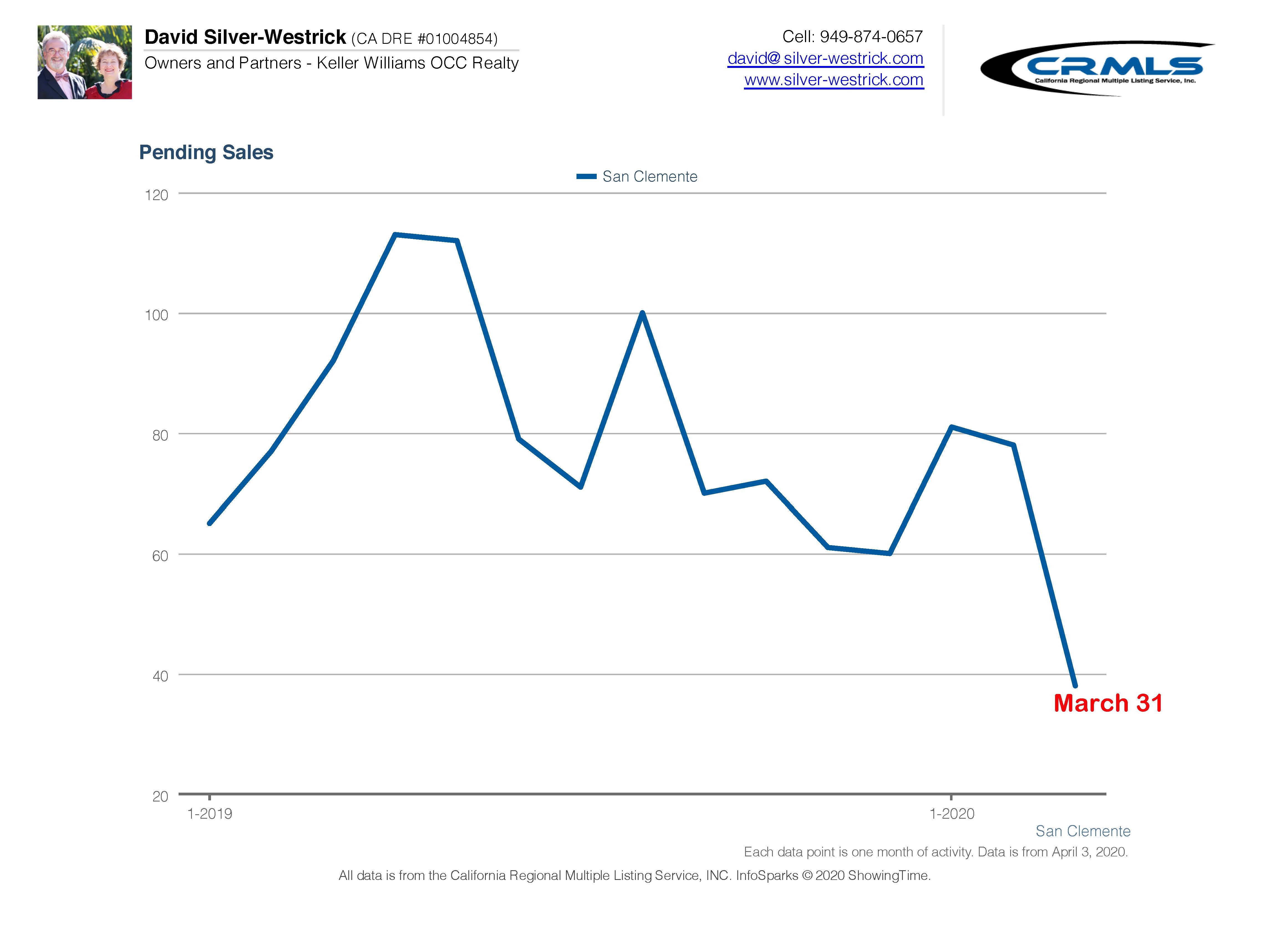 Finally, inventory is staying steady and low. There are not a lot of homes on the market. If you would like an update on your specific neighborhood or city, please call/text 949-874-0657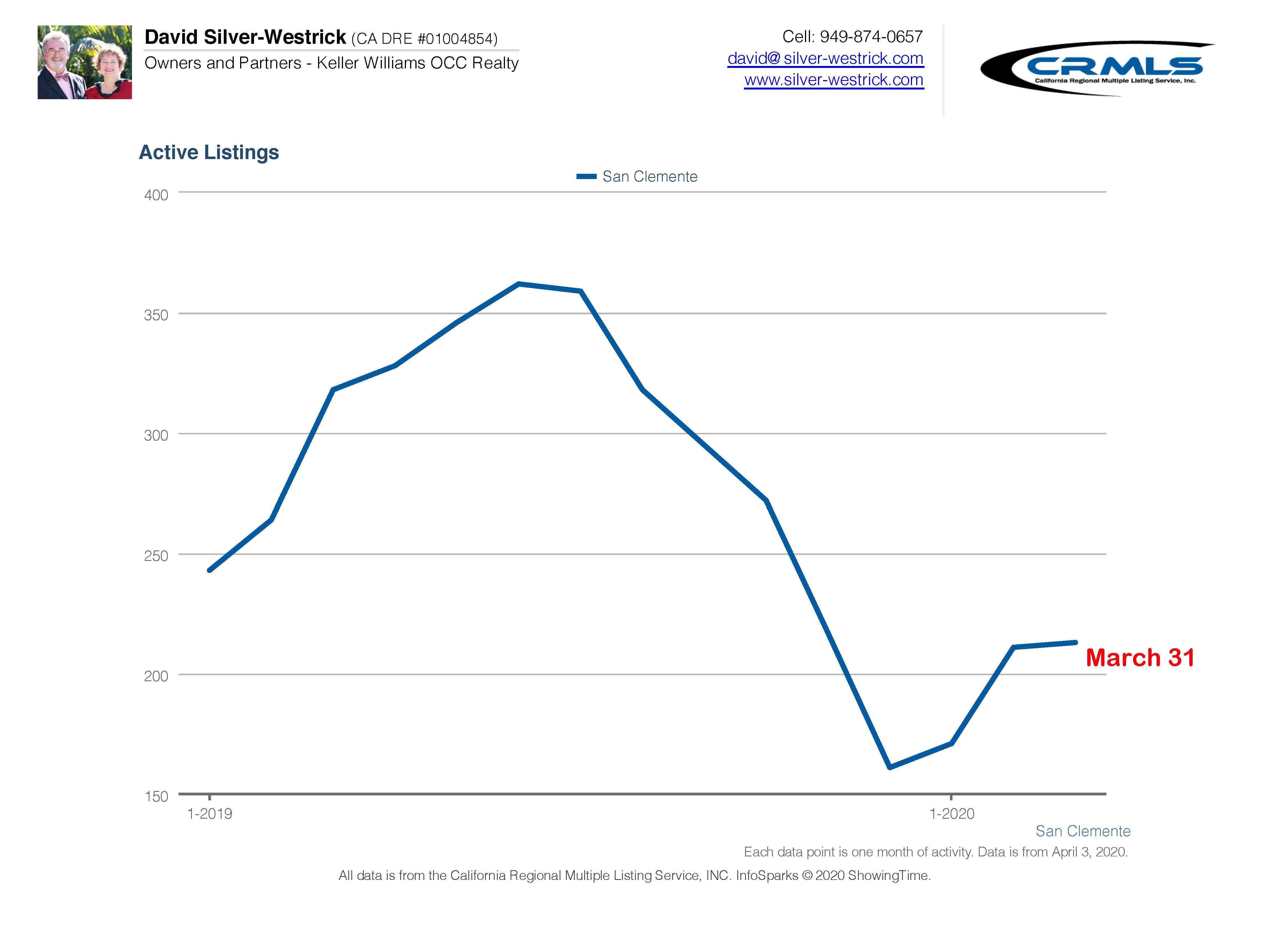 4/1. IRS relief on tax filings and more info on relief:
https://www.irs.gov/coronavirus?fbclid=IwAR3HzXpLiWuWQDSpzyQQmsNdvvXVY329xmosb7FL9nCHQsQe2Ui7_QE8VO8
4/1. Advice on how to handle April bills.
https://www.ocregister.com/2020/04/01/coronavirus-crunch-its-april-1-how-will-i-pay-my-bills/?fbclid=IwAR0m7c6aHrB1x-9MHWvTeckJWTWTFFEFTGZogyfTP_UNf9elSbLu3erUtjw
3/30. The California Association of Realtors has now published guidelines for Realtors and their clients doing business during the COVID outbreak. It is very extensive and detailed and is focused on minimizing contact between everyone involved in a real estate transaction. Yes, real estate transactions can be done. Virtual is best. Stay safe.
https://documentcloud.adobe.com/link/track?uri=urn%3Aaaid%3Ascds%3AUS%3A2b2a8e29-1dc1-4a0f-9169-38a2c08e20ac
3/30. Most Orange County utility companies promise that they will not cut off electricity, gas, or water for nonpayment during this crisis.
https://www.socalgas.com/coronavirus
https://www.sce.com/safety/coronavirus
https://www.smwd.com/ (Talega)
https://www.san-clemente.org/departments-services/water-information/water-sewer-services/utility-billing (Much of San Clemente)
3/30. Mortgage relief is available, but you have to ask:
MORTGAGE HELP FOR HOMEOWNERS IMPACTED BY THE CORONAVIRUS
Fannie Mae, Freddie Mac (the Enterprises) and the Federal Home Loan Banks are taking steps to help people who have been impacted by the coronavirus. If your ability to pay your mortgage is impacted, and your loan is owned by Fannie Mae or Freddie Mac, you may be eligible to delay making your monthly mortgage payments for a temporary period, during which:
You won't incur late fees.
You won't have delinquencies reported to the credit bureaus.
Foreclosure and other legal proceedings will be suspended
If you have trouble catching up at the end of this temporary relief period, additional assistance may be available. You can work with your servicer to resume making a mortgage payment. Or if you need additional assistance, you can work with your servicer on other foreclosure prevention options to keep your home.
Contact your mortgage servicer (the company where you send your monthly payments) as soon as possible to let them know about your current circumstances. The telephone number and mailing address of your mortgage servicer should be listed on your monthly mortgage statement.
https://www.fhfa.gov/Homeownersbuyer/MortgageAssistance/Pages/Coronavirus-Assistance-Information.aspx
3/30. The California Association of Realtors has created an "Unforeseen Coronavirus Circumstances" form to allow buyers and sellers to agree to allow one another additional time to close escrows.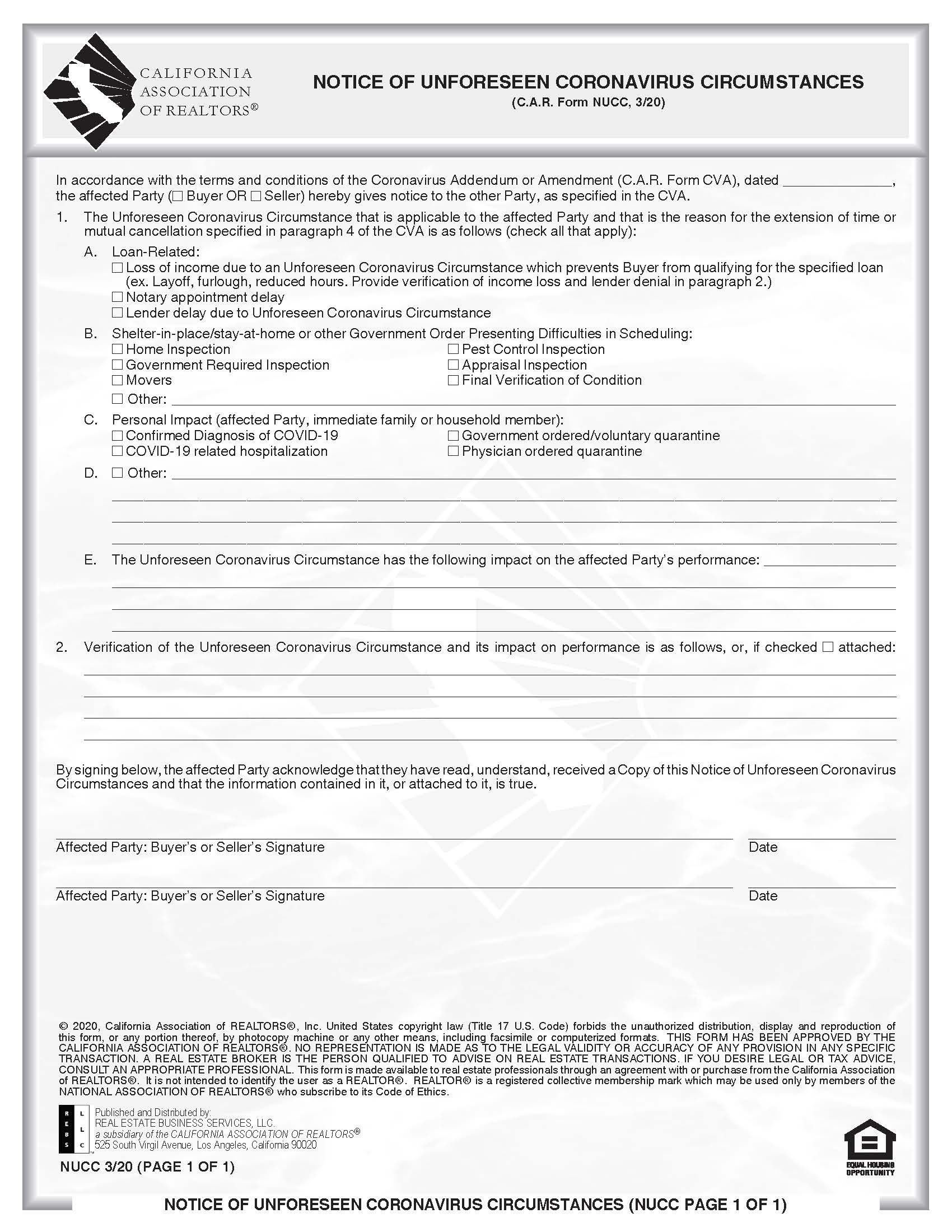 3/29. The California Association of Realtors has a temporary Coronavirus form to be used with purchases. It recognizes the reality that time limits may be hard to stick to. It is designed to give buyers greater confidence that they can enter escrows with less risk.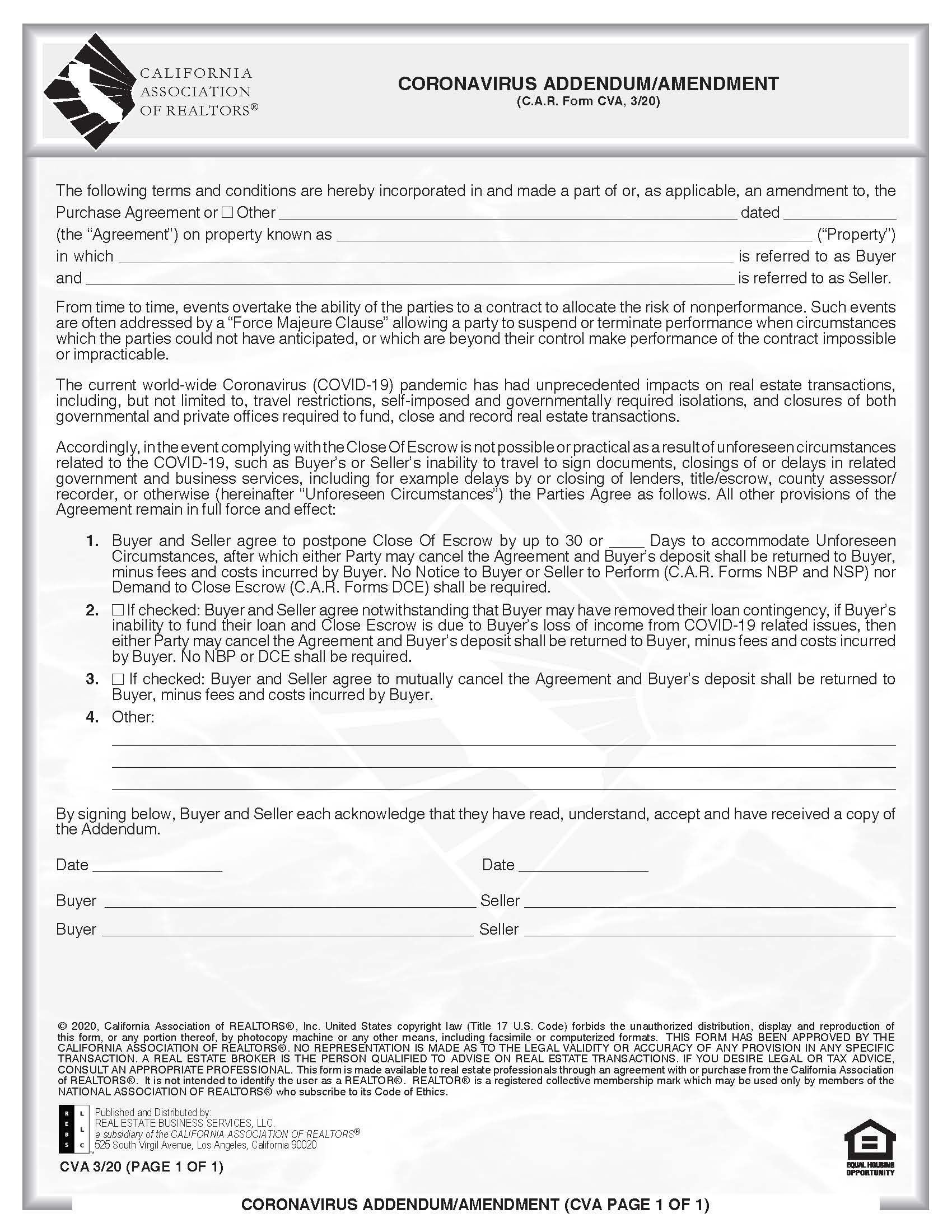 3/29. Beware of the scammers.
https://magazine.realtor/daily-news/2020/03/27/scammers-are-trying-to-dupe-homeowners-who-need-help
3/29. California Mortgage relief options. It's a moving target. Call us if you have specific questions. We have contacts with all major lenders. We can help you find the right people to reach out to.
https://ocregister-ca.newsmemory.com/?publink=04e8d3923_13435ad&fbclid=IwAR0BggEiQWxGk-YxDnE9g2DlobbH3oKIQaKqvLiCzAQZQcCIorkJfuQURCY#.XoDX8fLxO0k.gmail
3/28 Real Estate has just been declared an essential service by the Federal Government. Rules for listing and showing will follow.
https://www.carcovidupdates.org/statement-from-car-3-28
3/28. The National Association of Realtors has published a list of Coronavirus relief measures that might affect you – self-employed relief, student loan relief, real estate measures.
https://www.nar.realtor/political-advocacy/coronavirus-aid-relief-and-economic-security-act?utm_source=PARealtors%20Bambu&utm_medium=Social%20Media&utm_campaign=Social%20Media
3/27 Talk to your mortgage lender if you need a couple of months up to a year of mortgage debt relief. Every lender is different, but all are being encouraged to allow borrowers to defer or make reduced payments.
https://fortune.com/2020/03/23/mortgage-deferment-forbearance-modification-coronavirus/?fbclid=IwAR3ULSCputoBRx_UWSCwcY0p2KgWIxuhluZCnx4xt9DZd8bQPLPI1UeDhI8
3/27 Recession, followed by a sharp recovery?
https://www.housingwire.com/articles/covid-19-will-cause-a-steep-recession-followed-by-a-bounce-back/
3/26 California announced relief for (some) mortgage payments. You still need to contact your lender. Nothing is automatic:
https://www.latimes.com/california/story/2020-03-25/coronavirus-california-governor-newsom-homeowners-assistance
3/26 OC County Government Coronavirusus news and resources
https://occovid19.ochealthinfo.com/?fbclid=IwAR0P7dxEYCYYAIp5JQYpC0HlPA0313P_JieTzaA1eCdoXKgCHIImDzmpyaI
3/26 Questions about stimulus checks? Wondering if you will receive one? Here is the first well-informed article we have found: https://www.forbes.com/sites/kellyphillipserb/2020/03/25/all-you-wanted-to-know-about-those-tax-stimulus-checks-but-were-afraid-to-ask/?fbclid=IwAR0Ofj0JZqg49nkRvDic5a_gxWioGZ0q4OxZ6d8IDIdH59UO7z3MUgkRQRU#63f739461f9c
3/26 IRS announces response to Coronavirus:
https://www.irs.gov/newsroom/irs-unveils-new-people-first-initiative-covid-19-effort-temporarily-adjusts-suspends-key-compliance-program?fbclid=IwAR0J0auvmDqRlHfOCQdYzXfWvwLgzRrWOkrGi90XfFp-nFEZTFjkffON8OE
3/25 Mortgage Lending is being adapted and modified
https://www.nationalmortgagenews.com/news/fhfa-directs-gses-to-do-more-to-support-mbs-mortgage-lending?fbclid=IwAR09POxf5-co5RrW0jtgUCk9qllkXwniB5vAOmHsd7hTbxM_YADcQyKM5mc
3/35 Ben Bernanke expects a short sharp recession and an upturn immediately following
https://www.cnbc.com/2020/03/25/former-fed-chairman-ben-bernanke-sees-very-sharp-recession-followed-by-fairly-quick-rebound.html?fbclid=IwAR0yRkFXH5Ps3VGTCX6haKcfJ4y4fFZqmjt8KTEZq9k3t8sMNa23NeOG1wc
3/25 Look to the Helpers
https://blog.homekeepr.com/look-to-the-helpers-maintaining-your-mental-well-being?sharedby=david-silver-westrick&utm_source=ActiveCampaign&utm_medium=email&utm_content=Your+branded+blog+post+%7C+Look+to+the+Helpers%3A+Maintaining+Your+Mental+Well-Being&utm_campaign=2020_03_26_Shareable_Blog_Posts
David and Avarelle
949-874-0657 and 949-874-0658